Tom Means' Talks
Tom Means' popular talks. Available for your organization. 732-807-3646
Learn over 2,000 words in Spanish, French, Italian or Portuguese
English shares thousands of words with the Romance languages. Tom will guide you through these similarities in a way that is immediately applicable.
Italian language lesson with Italian dinner
Enjoy a four-course Italian dinner while learning Italian with Professor Means. It is delicious, fun and educational. Mangiamo bene e parliamo bene = We eat well and speak well.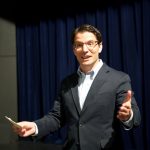 Learning languages for travel

Tom will show you that mastery of a few "language chunks" will make your stay abroad much richer. He will also review some of the basic science behind how humans learn languages.
Tom Means (Ph.D., Rutgers) is Assistant Professor of Modern Languages at BMCC, City University of New York, and is the founder of Means Language Center in Asbury Park, NJ. He is a dynamic speaker and communicator: He is passionate, humorous and educational in his talks; he begins and ends his presentations on time and the audience always enjoys his interactive style.
His crowd-engaging presentations are available for restaurants, schools, corporations, non-profits and general team-building events.